-needles: 12 needles/ 240 needles/ 600 needles/ 1200needles
-Roller color : red/purple, blue, green,yellow, black, white
-Handle color : white
-Needle material : Medical Stainless Steel
-Handle/Roller Material : PC
-size: 0.2MM 0.25MM 0.3MM 0.5MM 0.75MM 1.0MM 1.5MM 2.0MM 2.5MM 3.0MM
-High sealing sterilization packaging
-package: carton box
-we support OEM service
How to use?
1) Change the roller head
5 in 1 derma roller kit comes with 4 replaceable roller heads, you can switch betweendifferent roller heads with different needle count(12needles and 240 needles for smallarea like eye, scar; 600 needles for medium area like face, neck; 1200needles for large area like belly, leg) .
Follow the instructions below to change your roller heads properly.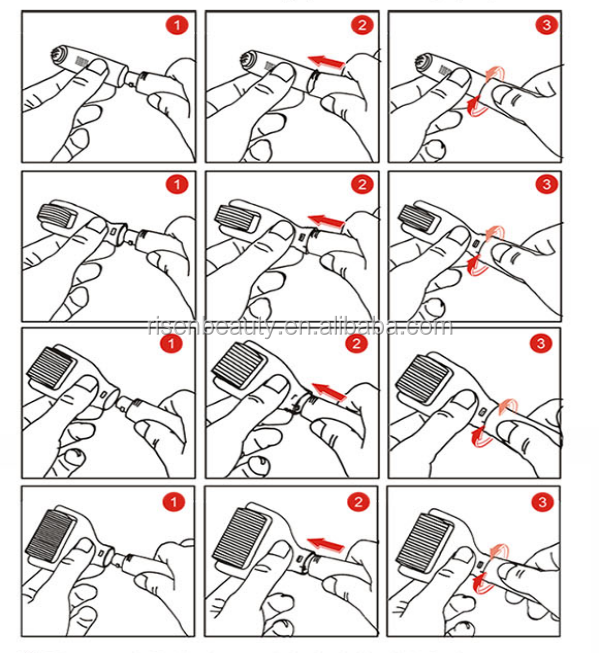 2)Please soak 5-10 minutes with alcohol in disinfection tank before reusing the head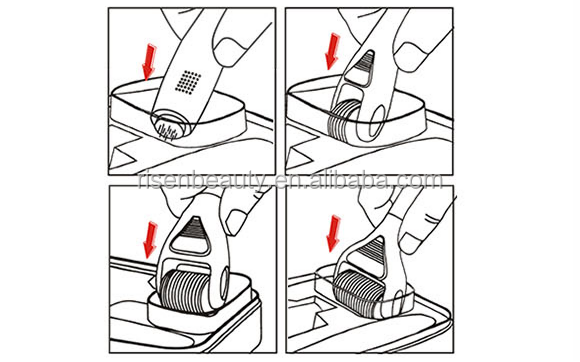 3)Apply suitable nutritioinal lotion/cream on area of skin that the roller is to be used.
4)Roll backwards and forwards 4 -5 times keeping the speed and pressure uniform thereby creating more micro vessels.
5)Move the roller four times at least in four directions(on the skin that needs care)
6)Apply nutrition or mask products on the skin that requires care in case of skin inflammation.